August 11, 2022 / Arla Wallace
Unconventional Ways to Fund a Small Business
The water stop for a major marathon is a fascinating place to be. Pre-race, police and tow truck drivers move parked cars blocking the marathon path. Post-race, the street is shoveled, and empty cups are swept into trash bags while tables are broken down and loaded onto moving trucks positioned just behind the last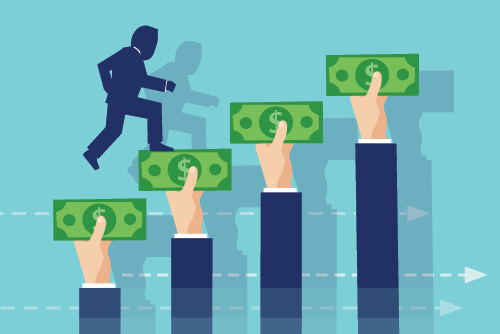 participants. The prime focus of both the pre- and post-race events is the removal of obstacles. Like the obstacles found along a marathon path, funding can be an obstacle for many small businesses. While there are many funding options available, it might be worth your time and energy to explore the less conventional ways to raise money.
Product Pre-Sales
Before a product is created, a pre-sale can bring in money. A pre-sale not only lets you measure interest in your product before launching it, but it also positions your company to bond with customers. Giving customers the first opportunity to buy a product and fulfilling on your product promises can be instrumental in helping your customers spread the word about your product. This option is not without risk though. Be mindful not to price your product too low in comparison to the costs to produce it or in presenting features that could lead to customer dissatisfaction if certain components are not fulfilled.
Bartering
This age-old strategy continues to have a place in the modern economy. When cash is tight, consider swapping services, resources, and ideas. In other words, help other small businesses. Bartering might not only help your company build a portfolio of products, but also increase sales when other businesses send customers your way. Bartering also can give you access to products and services not otherwise affordable to you. A former client received an equal value in chiropractic services in exchange for providing IT services to a chiropractor in town.
Venture Capitalists
Investors can jump-start your startup or small business through venture capital investments. However, be prepared to give up some portion of control or ownership in your company (generally a stake of 50% or less). Unlike a wealthy individual acting as an angel investor, venture capitalists raise and invest capital from limited partners with focus on specific stages of business development and growth. Venture capital firms typically earn their money by collecting management fees and fees for performance.
Side Business
With work from home continuing to be a reality for many Americans, it might be easier than ever to create your own side business with the time saved from giving up your commute alone. And, with uncertainly in the economy, diversifying your income could be a financial decision worth considering. The extra income derived from a side business could be used to not only pay down debt or save money, but also to invest in a startup or new product line for an existing business. Since COVID-19 surfaced, innovation and creativity have abounded. It was amazing to see how quickly restaurants reconfigured the delivery of services so customers could return.
Don't let the process of seeking external funds hold your business back. These and other unconventional funding sources can be practical solutions to help your small business hit the ground running or stay the course.
Arla Wallace is a Certified Public Accountant who worked for both publicly traded and private entities before founding her own business.
Join our e-newsletter
Sign up for our e-newsletter to get new content each month.