May 03, 2023 / Alicia Beecher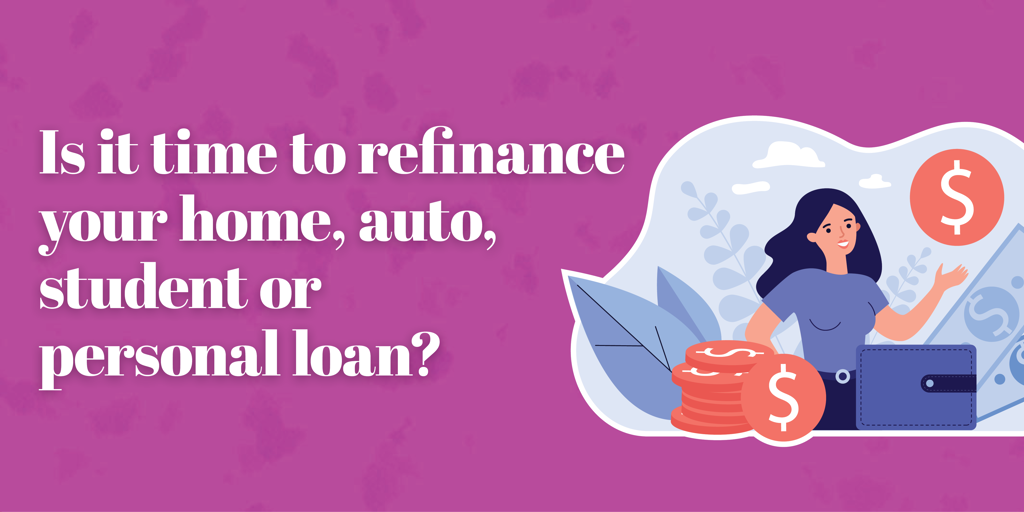 Is it time to refinance?
Are you unhappy with the terms of your current mortgage? Would you like to pay off your auto, personal, or student loans at a different rate? If so, you might be a candidate for refinancing. But how do you know if that is right for you? Here are some things to consider.
Not all lenders will refinance your loan. Just like how you had to convince a lender that you were a good fit for your original loan, you'll need to do the same when you refinance. Lenders will consider your income, credit history, and credit score. And some types of loans involve extra consideration. Auto refinancing, for example, can be difficult since cars depreciate and lose their value quickly. A lender will be less likely to refinance your auto loan if the car is old, has high mileage, or isn't worth enough for them to feel like it's a safe investment.

Refinancing could include lowering your interest rate or monthly payment, or changing the length or type of your loan. Sometimes lowering your monthly payment requires extending your loan, which can mean that you pay more overall. Shortening your term can make it harder to afford your payments if your financial situation changes unexpectedly. If you refinance federal student loans, you could lose access to debt forgiveness or government relief programs.

The best time to refinance depends on multiple factors. If interest rates have dropped since you got your loan or if your credit score has improved significantly, it might be worth trying to lower your interest rate with a refinanced loan. If you're struggling to make your monthly payments, lowering your payments by getting a longer term, even if it means paying more overall, can help take some of the strain off your budget. Many people also refinance for extra cash, but be wary of this, it could mean taking on more debt needlessly. In the case of mortgage refinancing, you could be trading equity for more debt.
To figure out if refinancing is right for you, you'll need to do some calculations. Determine how much your original loan will cost by adding what you have left to pay and the amount you will pay in interest. Reach out to potential lenders to get quotes.  
Once you have quotes from potential lenders, you can then take those numbers to your current lender and see if they can beat it. Once you've found the best deal, compare the difference between the refinanced loan and your current one. Do you end up coming out on top? If so, refinancing may be one of the most powerful moves you can make to help overcome debt.
If refinancing sounds right for you, contact a local lender at your community office.
Alicia Beecher is Consumer Lending Manager at F&M Trust.
Join our e-newsletter
Sign up for our e-newsletter to get new content each month.